WHO WE ARE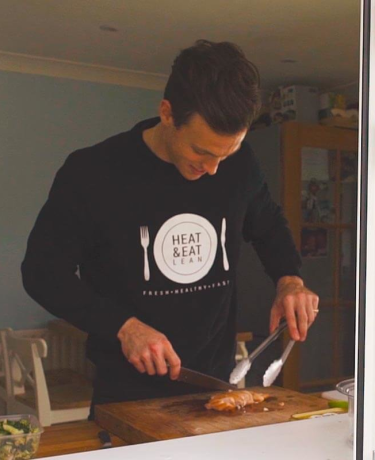 We cater for vegetarians, vegans as well as any other dietary requirements
Heat & Eat Lean are a family run 'home cooked' meal prep company based in Chichester, West Sussex, our passion is for people's reaction to our meals which is why we put as much love into the last prepared dish as we do the first.

After years of being organised and meal prepping for himself, Jonny thought he'd take the pressure off and try a service that would do all the hard work for him so he could spend less time in the kitchen and more time doing what he loves.
Having searched high and low for a service that could cater for his calorie and macronutrient needs and provide great tasting food, he was unable to find something that was up to scratch. That's the moment Jonny decided to create Heat & Eat Lean which puts the fun, flavour and enjoyment back into eating healthy meals.

Follow us on Instagram
HOW IT WORKS
We get cooking
When you've reached our minimum spend of £60, you can proceed to the checkout to schedule your next delivery.


Meals delivered to your door
No cooking or washing up, just HEAT and EAT Lean. Enjoy!



NUTRITIOUS, GOURMET MEALS STRAIGHT TO YOUR DOOR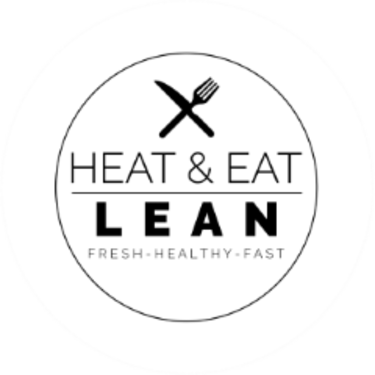 YOU CHOOSE. WE PREP.
Imagine a service that can deliver tasty and healthy meals straight to your doorstep. Heat & Eat Lean combine fresh and delicious flavours with nutritious ingredients to create the ultimate home-made meal made in minutes.
WHETHER YOU'RE A TIME CONSTRAINED PARENT, ASPIRING BODYBUILDER, OR SIMPLY LOOKING TO LOSE WEIGHT, OUR MEALS CAN HELP YOU ACHIEVE YOUR GOALS. HEAT & EAT LEAN MEALS MAKE EATING TASTY, NUTRITIOUS FOOD ON THE GO EASY, WITH NO NEED TO SHOP, PREP, COOK OR WASH UP!


What people think about Heat & Eat Lean.
LAURA SUTTON (IG: @LAURASUTTON85)
Gourmet Food delivered to your door! Very taste, fresh ingredients and highly recommended!
CHARLIE JOHNSTON (IG: @CHARLIEEJOHNSTON)
The food is delicious and fresh, and delivered straight to your door. Superior in quality and taste. I've used a few meal prep company's now and Heat & Eat lean is the best by far.
DEBBIE SWEENEY (IG: @DEBS_SWEEN)
Finally - a company that can deliver quality food that tastes delicious! This is my 3rd week of meals and in that time have dropped 8lbs whilst retaining my hard earned gains.
CHICHESTER CAR LTD (IG: @CHICHESTERCARSLTD)
Heat & Eat Lean meals were a life savior for me as a full time worker and part time instagrammer/blogger. Perfect for when you are struggling with time for example! Super balanced, full of flavour and crazy amazing macros.
LAURA (IG: @MANGOANDBLISS)
I have tried several meal prep brands, and I have to say, Heat & Eat Lean rank number 1. The taste, the nutritional content, the accuracy, the menu choices, the overall service is just fantastic.
RYAN LIBBEY (AS SEEN ON MADE IN CHELSEA) (IG: @RYAN.LIBBEY)
The food is absolutely fantastic! I still can't believe how tasty food on the go can really be. Its quick, tasty and feels like I am eating real home cooked food! There is clearly a huge amount of care and attention that goes into each and every meal.
ARMANA RAI (IG: @ARMANA_RAI)
For meal prep companies taste is often an after thought. Not with Heat & Eat Lean. Bags of flavour, good size portions for the amount of calories, and the meals allow you to stay on track knowing what you're eating.
BEN COOMBER - HEAT & EAT LEAN NUTRITIONIST (IG: @BENCOOMBER)
These meals that they were seriously delicious and very and I look forward to my lunch each day and each meal was full of flavour and left me feeling full and satisfied. Not to mention how much prep time they save me in the evening.
FAQ'S
COMPANY

Who are Heat & Eat Lean?
We are a family run 'home cooked' meal prep company, our passion is for peoples reaction to our meals which is why we put as much love into the last prepared dish as we do the first.


What is meal prep?
Meal prep can be anything, it can mean chopping, washing, portioning ahead of time for meals through the week. We do this for you so you do not have to and you have the time to do whatever else you like.


Do I need to work out?
Not at all! Of course, we would recommend a good exercise regime to maximize health but our meals were designed for people who want incredible tasting, home cooked and fresh meals that don't have the time or the desire to cook, therefore eat well. If you get home after a long day and just want to kick back, then look no further.


Who needs meal prep?
Fail to prepare, prepare to fail. As cliché as that may sound, it resonates so much truth. There is something about planning and structuring out your day that also makes you more focused. So who needs meal prep? Anyone… if your busy, work long hours, would rather be socializing (we would say enjoying the weather but we live in the UK), don't have time to cook your meals for the week on the most traditional 'Meal Prep Sundays' (maybe because you're hungover) then meal prep is for you.


ORDERING

How do I order?
Online orders only, you can mix and match between '300kcal' and '500kcal' meals and fully customize your order, quick buy, and subscribe (now with fully customised meals that YOU want – we are standing by to recommend when you need a hand)


Can I subscribe?
Yes. We have lots of packages available so if you have any questions on which one is best for you to give us a call or email and we can make sure you order the one that matches your needs.
07825277826
info@heatandeatlean.co.uk
Can I pause my subscription?
Absolutely, if you need to take a break, have lots of work events or go on holiday – just let us know and we can hold your subscription for up to 2 months (8 weeks) after this time the subscription will be ended with no refund. We need 2 weeks notice for a PAUSE to become active.


Can I get a discount?
Our meals are some of the cheapest and best tasting out there (just check out our reviews or speak to some of our customers, they will agree) so we do not run discounts or promotions.


FOOD
What food can I choose?
Anything you like! If you have a sweet tooth the grab our cakes and Heat & Eat Lean – 'Clean Treats', we have full cakes available or you can just grab a selection or them. Order as many combinations as you like to your taste buds.


Can I tweak the menu?
We try our best to cater for as many of your needs as possible, so if you need to remove anything from the menu just drop us a message and we will see what we can do! We can remove some items from meals  – JUST ASK.


Do you do breakfasts?
We do! We currently offer 5 different flavours of breakfast PROATS, including Strawberry Cheesecake, Tropical, Banoffee Blueberry Vanilla and Chocolate Peanut Butter. Be sure to also check out our blog and vlogs for recipes on quick and easy breakfasts you can make in under five minutes. **COOKED BREAKFASTS COMING SOON**


Do you do desserts?
Yes, we do, the design behind the recipes is that when snacking on naughty treats you always have an incredibly low protein content. So all our treats have a great amount of protein to balance your daily needs. We also offer full cakes for the super sweet tooth in you or to provide a great balanced snack for friends or colleagues (please bare in mind the cake will be split into portions so we can ship it to you).


How long do the meals last?
5 days from the day of cooking (Saturday/Sunday) and then it really depends on where you reside in the country. We are based on the south coast, Chichester, so London and in between can be delivered on a Sunday– Brighton area and in between can also be covered. Unfortunately, because of the way the courier system works, everyone else (nationwide) will be Tuesday via APC.


What if I have food intolerances or allergies?
Let us know! We can recommend the meals that will work for your intolerances and allergies, we work closely with the local EHO (Environmental Health Officer) so make sure contamination is at its lowest it physically can be.


How do I know what each meal contains?
The ingredients are listed on the website in the meal description and they are also on all of the containers that arrive with your meals. (PS. meals are all trackable on My Fitness Pal (MFP))


Where do you source your ingredients?
We source our ingredients locally and pick the best and freshest ingredients to give the meals a vibrant colour and the longest life possible.


What ingredients are used?
Our meals never rule out any ingredients, we try and create all our meals so that they are high in volume and keep you full. The meals are not aimed at a particular diet bracket – keto / low carb etc. just balanced and varied so should give enough choice to suit your needs.


Are meals HALAL?
Unfortunately not, all the meat is cooked in the same kitchen and we do not have the demand currently (FEB, 2019) to cater for this. You can ,still enjoy our desserts, vegan meals and fish dishes.


Do you cater to VEGGIES or VEGANS?
We will always try to update the menu with new items so keep an eye on the site and the socials for these coming back soon!


Can I eat the meals cold?
Yes, all meals are better warm but can definitely be eaten cold if you do not have the ability to get to a microwave – one of my close friends swears by only eating them cold!


How do you heat the meals & how long should I heat the meals for?
The instructions are on the containers that get delivered to you, but you would heat in a microwave for no longer than 3 minutes and your own microwave power will determine whether this is shorter. If you do not have a microwave, take the meal out of the plastic containers and add it to an ovenproof dish and pop in the oven on a low temperature until warmed through.


Can I freeze the meals?
NO, we do not recommend freezing meals, meals with rice should NEVER be frozen as rice can harvest bacteria more than any other ingredient, it's like a 5-star hotel for it. The defrosting process can also destroy the texture and consistency of the meals, mainly the vegetables and leave an unwelcome amount of water in the container. Some customers have frozen meals but we cannot suggest this is a good idea.


Are the meals GLUTEN FREE?
Most of the meals are gluten-free as this is the simplest of intolerances to remove, having a Mum that is Coeliac I know this all too well.


How many times can you reheat the meals?
ONLY ONCE. Do not heat meals more than once! Food & Hygiene legislation states food can be left out of a fridge for 90 mins and be safe to return so will be fine on your travels to work. Also, our foil lining solution can be reused in your own bags along with the cool pack's meals get delivered with to keep your meals fresher for longer durations (24hrs).


NUTRITION
How can I tell what meals I need?
Contact us! We can guide you not only with meal plans but your total calorie needs for the day. As a quick example, smaller meals would be better for females and larger meals for males, however, this is entirely dependant on YOUR OWN needs with reference to how active you are etc. WE ARE MORE THAN JUST A MEAL PREP COMPANY.


Is it specific to me?
With the above question, we can make it specific yes. We cannot, however, provide fully custom macro meals, we would work a plan around your needs instead,


What are macro and micronutrients?
Micronutrients, as opposed to macronutrients (protein, carbohydrates and fat), are comprised of vitamins and minerals which are required in small quantities to ensure normal metabolism, growth and physical well-being.


Our meals are comprised of the main, macronutrients used for main daily functions and recovery, and also packed full of micronutrients to provide the small support of the body. Most of our meals have at least 2 of your 5 a day in each meal, across 2 meals you will get your full '5-a-day' daily quota.


DELIVERY
How does delivery work?
IF UNSURE IF YOUR QUALIFY FOR CERTAIN DAYS – PLEASE CONTACT US.
07825277826
info@heatandeatlean.co.uk
Delivery really depends on where you reside in the country.


Where we can we will hand deliver!


We are based on the south coast, Chichester, so;


Chichester – London (and in between) – delivered on a Sunday
Chichester – Brighton (and in between – Worthing) Sunday
Nationwide outside of these areas – Tuesday via APC.
All delivery options will give you notice on the day for a rough idea on delivery time, traffic dependant.


When do I get my order?
All orders are compiled each week and sent out at the same time for the following week.


We have a Thursday midnight cut off – any meals ordered after this time will NOT be guaranteed for the following week but we will try our best to get you your meals ASAP.


Anything after the Friday cut off line means your order may be compiled into the following week.


What time will my meals be delivered?
SUNDAY


If you qualify for a Sunday delivery, meals will be delivered after 12 and before 10 pm Sunday night to get you meals before the start of the week.


IF YOU ARE NOT GOING TO BE IN, please leave us clear instructions on where to leave it or a code to get into your building!


Can I choose a specific time slot?
Unfortunately not, we do not currently have the ability to do this yet. However, you can select pre 12 or NEXT DAY (normally APC deliver the same place at the same time, you may be lucky and get pre 12 without paying for it)


What if I want delivery on a specific day?
Unfortunately, we cannot offer this, we do not currently have the ability to do this yet.


What happens if I am out?
If you are out the box will be left in a safe place, hopefully, instructed by yourselves OR we can leave with a neighbour, again instructed by you. All delivery options, either by ourselves or APC have to be delivered on the day they are sent, we cannot be held accountable for deliveries not collected in time, the cooling solution will allow meals to stay fresh for 24hrs but the sooner they get to a fridge the less chance they have of deteriorating.


IF YOU ARE NOT GOING TO BE IN, please leave us clear instructions on where to leave it or a code to get into your building!


If you change or delay the delivery time, Heat & Eat Lean cannot guarantee the quality of the food. Once ordered it is then the customer's responsibility to provide adequate delivery information to ensure maximum quality of the meals.


RECYCLING

We have lots of questions about this!


The outer box can be given back to us the following week to help save the environment (we need the foil and the cardboard box for this to work)


OR

You can use the foil and box to make sure your meals are god if your are travelling around. I once took a box to Austria in the car. The meals were great 24hrs afterwards.


The small containers the meals are served in can be used for many things;
Your own meal prep.
Dad has found many uses for his own DIY needs, screws, nuts & bolts, drill bits etc
Dried animal food/biscuits (dog, cat, fish, birds to name a few – if you are desperate to see your unique animal on here, message us and we'll get it added)


Your local school will happily take them in as they are perfect for paint, glue and many arts and crafts (Honestly – Ask my Mum, she's a teacher)